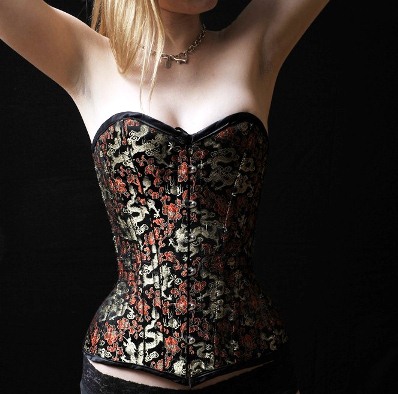 Hello everyone!
Blue Rose Corsetry is currently CLOSED for new corset orders.
We are working with those who have been on our waiting list.
Please contact me via email for any limited availability.
Thank you for your support!
We specialize in custom / bespoke corsetry so contact us with:
a description of the type of corset you seek

Victorian
Edwardian
Other historical period or inspriation

what features you need in your corset
what figure issues most concern you
the purpose of the corset

decorative short term wear
decorative long term outter wear
lifestyle related
waist training
I will be updating the products & photos pages over the coming weeks with new offerings.
********* Why buy a Corset? ***********************
Would you like an hourglass figure? Would you like to your figure appear slimmer and smoother? Would you like to train your waist into shape? Do you need back or posture support? Blue Rose Corsetry can help!
Blue Rose Corsetry specializes in custom corsetry. Why a custom fit corset? Most of us are not the same proportions as a standard dress form - tops or bottoms are a different sizes or we are not in the 5'4" - 5'6" heigh range and B-cup for which most patterns are sized. And in a corset - the most intimate and form fitting/shaping of garments, a custom fit makes all the difference in comfort and wearability. We work with you to address your figure and fit concerns so you look your best & feel fantastic in your new corset!
Blue Rose Corsetry carries several different styles and a variety of fabrics and trims.
Add to your clothing fun with corset inspired tops, chemises & bloomers and skirts. And accessorize with chain maille belts and body jewerly or leather items for play.
If you don't see what you're looking for, please ask. Custom design is our speciality!
With Blue Rose Corsetry you can exercise restraint in the most stylish ways!
Enjoy!